• custom jewelry • one-of-a-kind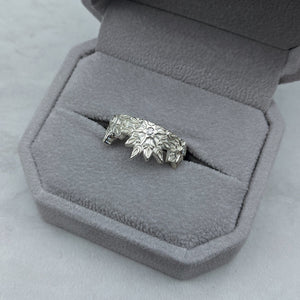 Jill asked me for a unique snowflake ring that was fairly wide and would be super sparkly. I created an asymmetrical design for her, so this ring could be worn also or stacked easily with some of her other favorite rings. I incorporated tons of delicate details in the metal, and flush-set diamonds throughout the ring to give it extra sparkle.
---
• custom jewelry • inspiration • one-of-a-kind • special details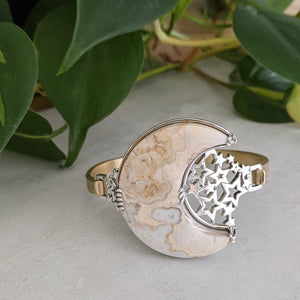 Another custom piece for my muse, Maria! We created this two-tone celestial bracelet using a moon-shaped stunner that she picked up at a local gem and mineral show. The backplate behind the center stone also has a star design, because you know I love to add special, secret details to my jewelry.
---
• custom jewelry • engagement rings • men's jewelry • wedding rings
Lindsay loves horses and wanted equestrian jewelry for both her engagement ring and wedding ring, so we included classic horse tail braid and horseshoe filigree details in her rings (scroll down to the last picture to see what I designed). When she and Matt were ready to order their custom matching wedding rings, they chose an engraved design that references a horse's braided mane. Horse braid jewelry is a whole category of jewelry for equestrians, and this platinum and diamond option for wedding rings is a more subtle reference to your love of horses. The men's wedding ring has engraving in four...
---
• custom jewelry • men's jewelry • one-of-a-kind • wedding rings
Looking for a unique men's wedding ring in a precious metal like gold or platinum? Maybe the custom jewelry process is for you! For every custom project, I start with sketches and mock-ups in Rhino3D, then create realistic 3D renderings for my clients. We make changes if needed, then once the job is approved, I print wax models on a 3D printer, and then cast the custom wedding rings. This is an intriguing, unique process that very few men take advantage of (most of my custom projects are engagement rings!). So, if you're looking for a unique men's platinum ring...
---
• birthday gifts • craft shows • earrings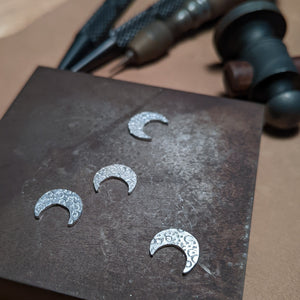 I made new mini moon and star stud earrings for La Festa Natale craft show this past December. I also made some moon pendants using a sheet of sterling silver I etched many moons ago. It was a really nice change of pace to get some time at my bench. Sawing, filing, hammering, and polishing are immersive, and it's so relaxing to get in the zone while creating. I made a limited number of pieces, and they sold out so fast that I only took a few progress pictures. When I make more, I'll list them in my online shop!...