• birthday gifts • craft shows • earrings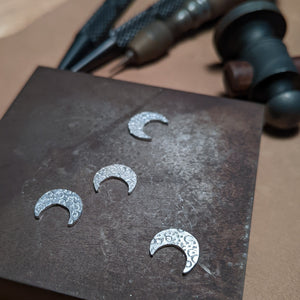 I made new mini moon and star stud earrings for La Festa Natale craft show this past December. I also made some moon pendants using a sheet of sterling silver I etched many moons ago. It was a really nice change of pace to get some time at my bench. Sawing, filing, hammering, and polishing are immersive, and it's so relaxing to get in the zone while creating. I made a limited number of pieces, and they sold out so fast that I only took a few progress pictures. When I make more, I'll list them in my online shop!...
---
• earrings • men's jewelry • one-of-a-kind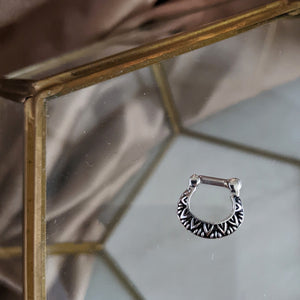 A few years ago, I made custom plugs for my friend Alastair. This year I made him a matching custom septum ring in sterling silver. It includes some elements from his earrings, but on a smaller scale. Now he has a complete, one-of-a-kind jewelry look for everyday wear. Love it!
---
• earrings • press • small business
I donated a pair of my Peacock Earrings to my high school's Bulldog Bash Online Auction this year! Want to get your hands on them? You can click here to bid on my earrings, and tons of other art pieces donated by Wilson High School alumni. From the auction website: "This year our auction is unique featuring artwork and handmade pieces, to celebrate the arts and honor our 2022 Legacy Award recipient, Mr. Robert H. Chappel. Many items were donated by Wilson School District staff and former Wilson students! Make sure to read all of the item descriptions for details....
---
• custom jewelry • earrings • heirloom jewelry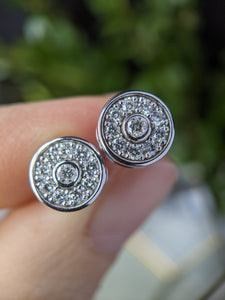 I reused some of my customer's heirloom diamonds (from her mother's engagement ring), and added more pavé diamonds to complete these custom halo earrings. They're .25" in diameter, which is perfect for everyday wear. There's nothing better than giving new life to old jewelry! Do you have jewelry that's gathering dust in your jewelry box? Let's make something new together!