• birthday gifts • craft shows • earrings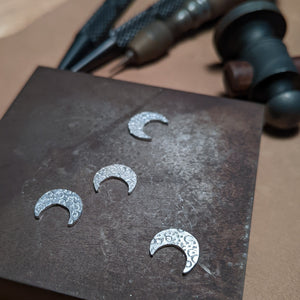 I made new mini moon and star stud earrings for La Festa Natale craft show this past December. I also made some moon pendants using a sheet of sterling silver I etched many moons ago. It was a really nice change of pace to get some time at my bench. Sawing, filing, hammering, and polishing are immersive, and it's so relaxing to get in the zone while creating. I made a limited number of pieces, and they sold out so fast that I only took a few progress pictures. When I make more, I'll list them in my online shop!...
---
• birthday gifts • craft shows • pop-up shops • small business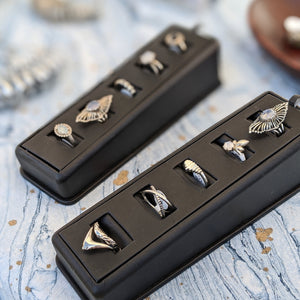 Thank you to everyone who came out to the Pittston 2nd Friday Art Walk last week. I had a great time, and everyone I chatted with was loving shopping outdoors in the brisk fall air! My most popular ring last week was the Lamella Ring, which comes in black diopside, chalcedony, moonstone, and labradorite. There are only a few left, so snap yours up while you still can!
---
• craft shows • small business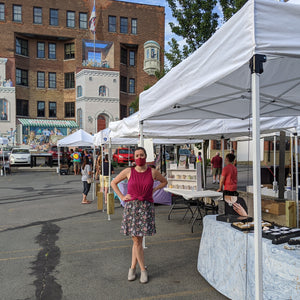 Thank you for coming out to Pittston's 2nd Friday Art Walk last week! I got a taste of the vibrant art scene in Pittston, PA, chatted with a ton of people about where to get the best local pizza in NEPA, and (of course!), found new homes for some of my favorite pieces of special, sterling silver jewelry. All this pizza talk is the exact kind of information I need, as I recently moved to Pittston from Philadelphia. Here's the full list of Pittston, Old Forge, Scranton, Wilkes-Barre (and more) pizza recommendations I received from locals: The Gramercy (owned by...
---
• craft shows • custom jewelry • engagement rings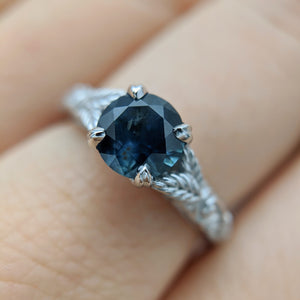 It's hard to keep quiet about the custom projects I always have in the works, and I'm so happy I get to share this one now! After we met at the Manayunk Arts Festival last summer, Max reached out to me to create a special custom engagement ring.   To start, we chatted about design inspiration, which included leaves, twigs, and lots of sapphires. After reviewing several design options, Max chose this delicate 14kt white gold engagement ring. The swirled leaf engraving speaks to the organic inspiration, and double claw prongs lend a vintage touch. Next, we perused the selection...
---
• craft shows • philadelphia • pop-up shops • press
Check out this article from Philadelphia Style that shows some highlights from the pop-up shop I participated in earlier this fall. Bela Shehu of NINOBrand and Karin Copeland arranged for a curated selection of local Philadelphia jewelers, artists and creatives to sell work exclusively to the Marie Forleo book tour crowd. This pop-up shop was part of Bela's Private School Experiment, which "designs and hosts interactive experiences for the curious and the creative, creating experimental installations that entice and delight the senses.  Begin the night with an interactive shoppable experience from Private School. Engage with the designers behind some of...