• custom jewelry • engagement rings • men's jewelry • wedding rings
Lindsay loves horses and wanted equestrian jewelry for both her engagement ring and wedding ring, so we included classic horse tail braid and horseshoe filigree details in her rings (scroll down to the last picture to see what I designed). When she and Matt were ready to order their custom matching wedding rings, they chose an engraved design that references a horse's braided mane. Horse braid jewelry is a whole category of jewelry for equestrians, and this platinum and diamond option for wedding rings is a more subtle reference to your love of horses. The men's wedding ring has engraving in four...
---
• custom jewelry • men's jewelry • one-of-a-kind • wedding rings
Looking for a unique men's wedding ring in a precious metal like gold or platinum? Maybe the custom jewelry process is for you! For every custom project, I start with sketches and mock-ups in Rhino3D, then create realistic 3D renderings for my clients. We make changes if needed, then once the job is approved, I print wax models on a 3D printer, and then cast the custom wedding rings. This is an intriguing, unique process that very few men take advantage of (most of my custom projects are engagement rings!). So, if you're looking for a unique men's platinum ring...
---
• custom jewelry • wedding rings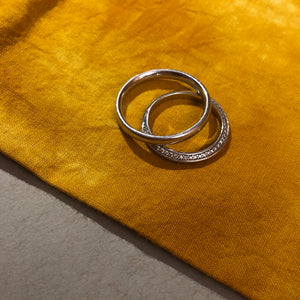 This custom knife-edge pavé wedding ring was for a good friend of mine. She has a classic Tiffany solitaire engagement ring with a knife-edge shank and requested a pavé band to match. A knife-edge ring with pavé means there's actually two rows of diamonds on this ring - one on each side of the shank.  There's a small sizing bar at the bottom of her wedding ring, which I always recommend. Most people experience weight fluctuations or joint swelling at some point in their lifetime, so it's always a good idea to have a little room to adjust. 
---
• botanical • custom jewelry • one-of-a-kind • wedding rings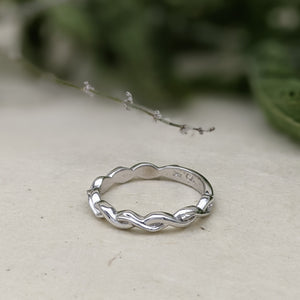 I created this custom wedding band to match Katelyn's custom marquise engagement ring. Both rings have an organic, vine-like woven shank with little knob and knot details to suggest a tree branch. I think nature is endlessly inspiring for my jewelry. You can take a peek at more custom projects inspired by nature here and here.
---
• custom jewelry • engagement rings • heirloom jewelry • wedding rings
I made this antique-inspired halo engagement ring for my sister-in-law, and she chose a simple rose gold wedding band to stack with it.  I love mixed metals! You don't have to worry about matching your jewelry when you intentionally mix metals. Wear what you love, what makes you feel good.