• botanical • custom jewelry • one-of-a-kind • wedding rings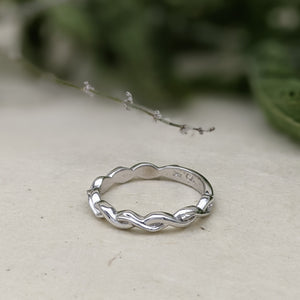 I created this custom wedding band to match Katelyn's custom marquise engagement ring. Both rings have an organic, vine-like woven shank with little knob and knot details to suggest a tree branch. I think nature is endlessly inspiring for my jewelry. You can take a peek at more custom projects inspired by nature here and here.
---
• botanical • custom jewelry • memorial jewelry • special details
I created this custom pendant for a four leaf clover that one of my clients found. It's so rare to actually find an in-tact four leaf clover, and since she found this one while chatting about her grandmother with a good friend, she took it as a good sign. After pressing the clover to dry it, she brought it to me to create a custom pendant to set it into. I designed gorgeous, flowing filigree on the back that mimics the shape of the clover. Whether you're looking at the front or the back of this pendant, it's beautiful and...
---
• botanical • special details • statement jewelry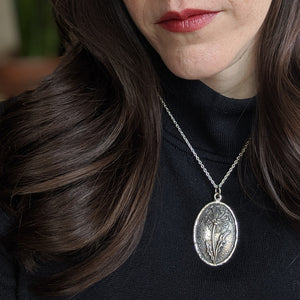 Here's a selfie with my Dandelion Sigel Pendant. Remember Game of Thrones? I made this handcarved oval pendant in homage to the armor-like jewelry that Cercei Lannister and Sansa Stark wore. I need a new show! Send me a message and let me know what you're watching this fall!