• custom jewelry • engagement rings • men's jewelry • wedding rings
Lindsay loves horses and wanted equestrian jewelry for both her engagement ring and wedding ring, so we included classic horse tail braid and horseshoe filigree details in her rings (scroll down to the last picture to see what I designed). When she and Matt were ready to order their custom matching wedding rings, they chose an engraved design that references a horse's braided mane. Horse braid jewelry is a whole category of jewelry for equestrians, and this platinum and diamond option for wedding rings is a more subtle reference to your love of horses. The men's wedding ring has engraving in four...
---
• birthstone • custom jewelry • engagement rings • heirloom jewelry • one-of-a-kind
I used heirloom gemstones to create this one-of-a-kind ruby and diamond engagement ring. The pear ruby sits at a jaunty angle, and the tine bead-set diamonds weave down each side of the ring This was such a fun custom project, and even more special because it's for my besties. Congratulations, Pat and Rosie!! About this ring, Rosie said "I couldn't be happier with my ring! It turned out elegant and unique just as I wanted!! I loved being able to repurpose family stones and give them a second life. I'm already looking forward to designing my custom wedding band! Thanks so much Christine....
---
• custom jewelry • engagement rings • heirloom jewelry • wedding rings
I made this antique-inspired halo engagement ring for my sister-in-law, and she chose a simple rose gold wedding band to stack with it.  I love mixed metals! You don't have to worry about matching your jewelry when you intentionally mix metals. Wear what you love, what makes you feel good.
---
• celebratory • custom jewelry • engagement rings • heirloom jewelry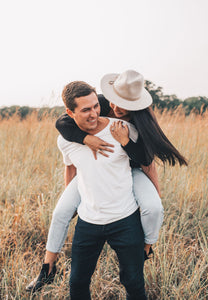 Nicholas and Lindsey just sent these gorgeous engagement shots to me, and I'm so excited to share them! I created a custom pear halo engagement ring for Nicholas, making sure that it would fit well with a simple, classic diamond pavé wedding band. Sometimes a wedding band for a pear shaped engagement ring has to be contoured, but I try to design my engagement rings so that both straight and contour bands will work. Are you ready to started designing your engagement ring? Send me a message to get started!      
---
• custom jewelry • engagement rings • holidays • small business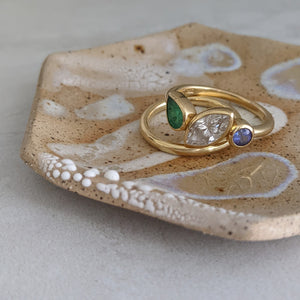 If you've been hoping to get a new piece of jewelry made for the holidays (as a gift for someone special, or a gift for yourself!), now's the time to reach out. You can DM, email, or send me a message through my Contact Page. October 17th is the last day to place custom orders for Christmas November 26th/27th is my Black Friday/Small Business Saturday Sale December 9th is the last day that items from my Shop (excluding Engagement and Wedding) will ship out in time for Christmas