• custom jewelry • inspiration • one-of-a-kind • special details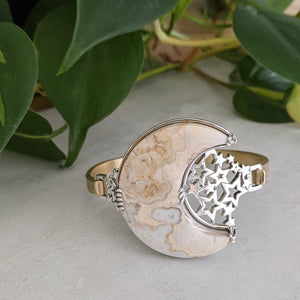 Another custom piece for my muse, Maria! We created this two-tone celestial bracelet using a moon-shaped stunner that she picked up at a local gem and mineral show. The backplate behind the center stone also has a star design, because you know I love to add special, secret details to my jewelry.
---
• children • custom jewelry • inspiration • push present • special details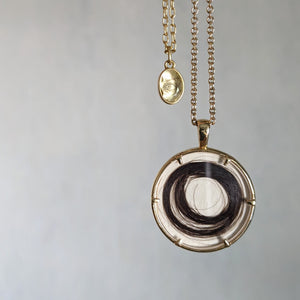 My very favorite necklace: a piece that celebrates my son, Michael. One of his sweetest and oft repeated phrases as a toddler was "See the moon?". I designed a crescent moon pendant with three 8-pointed stars, one to represent each member of our family. This piece is reversible, too! The back of this pendant features a lock of Michael's baby curls. After his first haircut, I had tucked a few locks of hair away in an envelope and wanted to place them somewhere I'd see them more often. This ended up being the perfect keepsake to display his baby curls. I...
---
• birthstone • celebratory • custom jewelry • necklaces • special details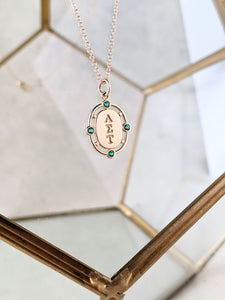 I worked with Susan to design this custom 14kt yellow gold and emerald sorority pendant. The colors represent the colors of her sorority, and this pendant is dainty enough to layer with her other everyday necklaces. Since Susan's daughter, K., is now a freshman in college, this was the perfect opportunity to give K. her first piece of real gold jewelry. Ready to gift an exquisite piece of custom jewelry? Reach out to me, I'm happy to answer any questions you have!
---
• custom jewelry • men's jewelry • special details
I made this custom Mobius cuff bracelet as a gift. Custom sterling silver jewelry is such a classic, timeless gift! We personalized this twist cuff bracelet with the giver's handwriting tucked inside. The word "tomorrow" has a secret, hidden meaning for this couple, and it makes this gift even more memorable and unique.
---
• botanical • custom jewelry • memorial jewelry • special details
I created this custom pendant for a four leaf clover that one of my clients found. It's so rare to actually find an in-tact four leaf clover, and since she found this one while chatting about her grandmother with a good friend, she took it as a good sign. After pressing the clover to dry it, she brought it to me to create a custom pendant to set it into. I designed gorgeous, flowing filigree on the back that mimics the shape of the clover. Whether you're looking at the front or the back of this pendant, it's beautiful and...