• children • custom jewelry • inspiration • push present • special details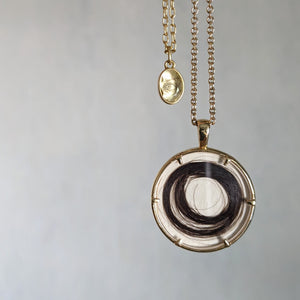 My very favorite necklace: a piece that celebrates my son, Michael. One of his sweetest and oft repeated phrases as a toddler was "See the moon?". I designed a crescent moon pendant with three 8-pointed stars, one to represent each member of our family. This piece is reversible, too! The back of this pendant features a lock of Michael's baby curls. After his first haircut, I had tucked a few locks of hair away in an envelope and wanted to place them somewhere I'd see them more often. This ended up being the perfect keepsake to display his baby curls. I...
---
• children • custom jewelry • heirloom jewelry • push present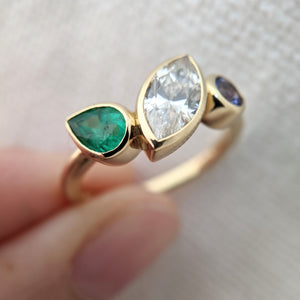 I made myself a push present! This is an 18kt yellow gold ring with emerald, diamond and tanzanite (birthstones for my husband, myself, and our baby, Michael) set in bezels. I like to think of these as 'dancing' bezels. What would you call this style? Giving birth seemed like the perfect occasion to treat myself to a new piece of jewelry. I designed this ring so that it would be easy to add more bezels if we happen to have more children in the future. If you want to make a custom push present for yourself or your significant other,...
---
• custom jewelry • push present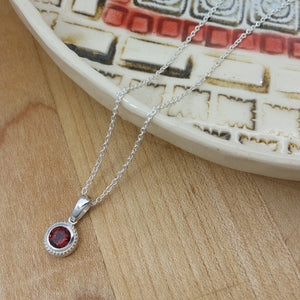 Can you say Push Present? Customized necklaces are perfect (and they always fit!) I made this garnet bezel pendant for a January baby. We added a beaded halo for a simple, special detail. Thinking ahead, I made sure to design this piece so that more gemstones can be added, in case another baby (or three!?) happens to come along in the future. Send me a message if you're looking for a custom push present!