• celebratory • custom jewelry • engagement rings • heirloom jewelry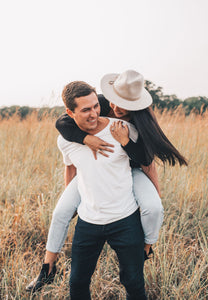 Nicholas and Lindsey just sent these gorgeous engagement shots to me, and I'm so excited to share them! I created a custom pear halo engagement ring for Nicholas, making sure that it would fit well with a simple, classic diamond pavé wedding band. Sometimes a wedding band for a pear shaped engagement ring has to be contoured, but I try to design my engagement rings so that both straight and contour bands will work. Are you ready to started designing your engagement ring? Send me a message to get started!      
---
• birthstone • celebratory • custom jewelry • necklaces • special details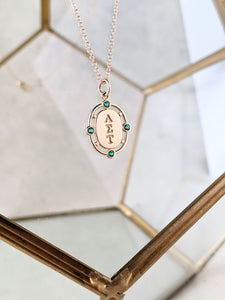 I worked with Susan to design this custom 14kt yellow gold and emerald sorority pendant. The colors represent the colors of her sorority, and this pendant is dainty enough to layer with her other everyday necklaces. Since Susan's daughter, K., is now a freshman in college, this was the perfect opportunity to give K. her first piece of real gold jewelry. Ready to gift an exquisite piece of custom jewelry? Reach out to me, I'm happy to answer any questions you have!