• birthstone • custom jewelry • necklaces • one-of-a-kind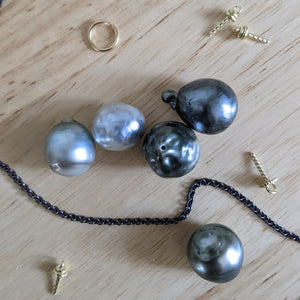 I've been working on making some new one-of-a-kind pieces! I'm making Tahitian baroque pearl pendants in 18kt yellow gold, with sterling silver and blackened silver chains. I think these will be perfect for layering with paperclip chains, which I've been obsessed with for several years. 
---
• custom jewelry • memorial jewelry • necklaces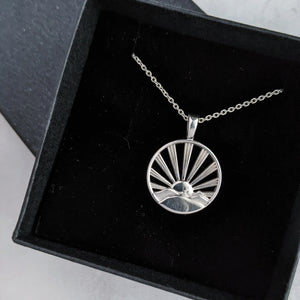 I designed this keepsake memorial pendant for a Christmas gift this holiday season. Liz wanted a gift for her friend whose father had recently passed. He loved the outdoors, and especially sunsets, so I came up with three sunset necklace options and she chose her favorite. If you're interested in commissioning a piece of custom jewelry, you can send me a message through my Contact Page.
---
• engagement rings • heirloom jewelry • necklaces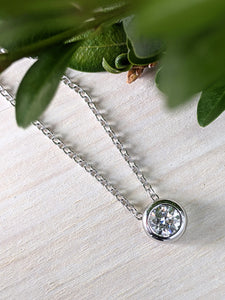 Do you have diamonds from your grandmother's engagement ring that you'd like to turn into a new piece of jewelry? Let's reimagine your family heirlooms! I removed this round brilliant diamond from an old family ring my client had laying around. We reset the diamond in a simple white gold bezel pendant, so she could wear it every day. It doesn't get any better than that! Do you have old jewelry laying around the house? Let's give it a new lease on life! Send me a message to get started.
---
• birthstone • celebratory • custom jewelry • necklaces • special details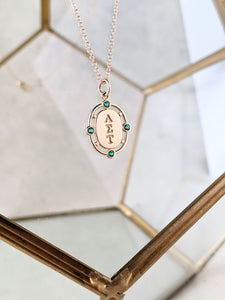 I worked with Susan to design this custom 14kt yellow gold and emerald sorority pendant. The colors represent the colors of her sorority, and this pendant is dainty enough to layer with her other everyday necklaces. Since Susan's daughter, K., is now a freshman in college, this was the perfect opportunity to give K. her first piece of real gold jewelry. Ready to gift an exquisite piece of custom jewelry? Reach out to me, I'm happy to answer any questions you have!