• custom jewelry • one-of-a-kind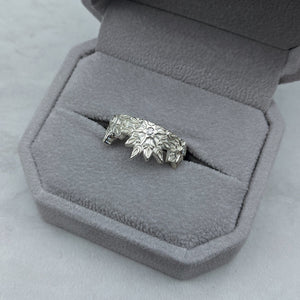 Jill asked me for a unique snowflake ring that was fairly wide and would be super sparkly. I created an asymmetrical design for her, so this ring could be worn also or stacked easily with some of her other favorite rings. I incorporated tons of delicate details in the metal, and flush-set diamonds throughout the ring to give it extra sparkle.
---
• custom jewelry • inspiration • one-of-a-kind • special details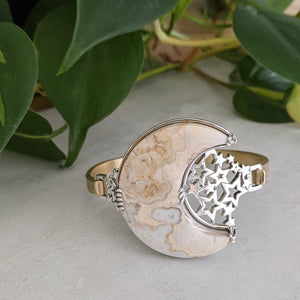 Another custom piece for my muse, Maria! We created this two-tone celestial bracelet using a moon-shaped stunner that she picked up at a local gem and mineral show. The backplate behind the center stone also has a star design, because you know I love to add special, secret details to my jewelry.
---
• custom jewelry • men's jewelry • one-of-a-kind • wedding rings
Looking for a unique men's wedding ring in a precious metal like gold or platinum? Maybe the custom jewelry process is for you! For every custom project, I start with sketches and mock-ups in Rhino3D, then create realistic 3D renderings for my clients. We make changes if needed, then once the job is approved, I print wax models on a 3D printer, and then cast the custom wedding rings. This is an intriguing, unique process that very few men take advantage of (most of my custom projects are engagement rings!). So, if you're looking for a unique men's platinum ring...
---
• birthstone • custom jewelry • engagement rings • heirloom jewelry • one-of-a-kind
I used heirloom gemstones to create this one-of-a-kind ruby and diamond engagement ring. The pear ruby sits at a jaunty angle, and the tine bead-set diamonds weave down each side of the ring This was such a fun custom project, and even more special because it's for my besties. Congratulations, Pat and Rosie!! About this ring, Rosie said "I couldn't be happier with my ring! It turned out elegant and unique just as I wanted!! I loved being able to repurpose family stones and give them a second life. I'm already looking forward to designing my custom wedding band! Thanks so much Christine....
---
• botanical • custom jewelry • one-of-a-kind • wedding rings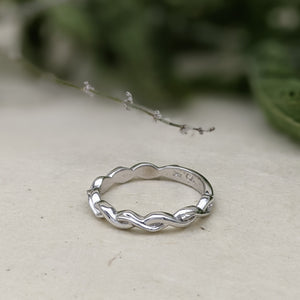 I created this custom wedding band to match Katelyn's custom marquise engagement ring. Both rings have an organic, vine-like woven shank with little knob and knot details to suggest a tree branch. I think nature is endlessly inspiring for my jewelry. You can take a peek at more custom projects inspired by nature here and here.