• custom jewelry • engagement rings • men's jewelry • wedding rings
Lindsay loves horses and wanted equestrian jewelry for both her engagement ring and wedding ring, so we included classic horse tail braid and horseshoe filigree details in her rings (scroll down to the last picture to see what I designed). When she and Matt were ready to order their custom matching wedding rings, they chose an engraved design that references a horse's braided mane. Horse braid jewelry is a whole category of jewelry for equestrians, and this platinum and diamond option for wedding rings is a more subtle reference to your love of horses. The men's wedding ring has engraving in four...
---
• custom jewelry • men's jewelry • one-of-a-kind • wedding rings
Looking for a unique men's wedding ring in a precious metal like gold or platinum? Maybe the custom jewelry process is for you! For every custom project, I start with sketches and mock-ups in Rhino3D, then create realistic 3D renderings for my clients. We make changes if needed, then once the job is approved, I print wax models on a 3D printer, and then cast the custom wedding rings. This is an intriguing, unique process that very few men take advantage of (most of my custom projects are engagement rings!). So, if you're looking for a unique men's platinum ring...
---
• earrings • men's jewelry • one-of-a-kind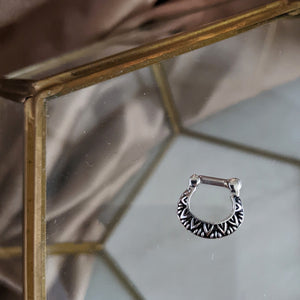 A few years ago, I made custom plugs for my friend Alastair. This year I made him a matching custom septum ring in sterling silver. It includes some elements from his earrings, but on a smaller scale. Now he has a complete, one-of-a-kind jewelry look for everyday wear. Love it!
---
• custom jewelry • men's jewelry • special details
I made this custom Mobius cuff bracelet as a gift. Custom sterling silver jewelry is such a classic, timeless gift! We personalized this twist cuff bracelet with the giver's handwriting tucked inside. The word "tomorrow" has a secret, hidden meaning for this couple, and it makes this gift even more memorable and unique.
---
• custom jewelry • heirloom jewelry • inspiration • men's jewelry • wedding rings
My client and her fiancé both love the outdoors. They got engaged (with a unique, custom #christineoriginal engagement ring) while hiking at Big Bend National Park, and they plan on being married among the Redwoods (SO. ROMANTIC!). To celebrate their shared passion, I designed their wedding rings to reference both mountains and trees. Her double chevron wedding ring subtly alludes to the mountains, while his ring has a scenic treeline design. Lovely, right? If you're looking for a unique engagement ring, or you want to take gemstones you already have and make a special, new piece of jewelry for yourself,...