• birthstone • custom jewelry • engagement rings • heirloom jewelry • one-of-a-kind
I used heirloom gemstones to create this one-of-a-kind ruby and diamond engagement ring. The pear ruby sits at a jaunty angle, and the tine bead-set diamonds weave down each side of the ring This was such a fun custom project, and even more special because it's for my besties. Congratulations, Pat and Rosie!! About this ring, Rosie said "I couldn't be happier with my ring! It turned out elegant and unique just as I wanted!! I loved being able to repurpose family stones and give them a second life. I'm already looking forward to designing my custom wedding band! Thanks so much Christine....
---
• custom jewelry • wedding rings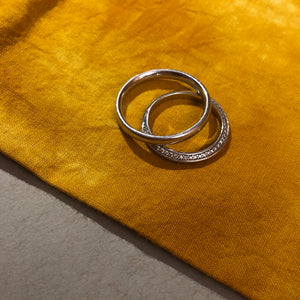 This custom knife-edge pavé wedding ring was for a good friend of mine. She has a classic Tiffany solitaire engagement ring with a knife-edge shank and requested a pavé band to match. A knife-edge ring with pavé means there's actually two rows of diamonds on this ring - one on each side of the shank.  There's a small sizing bar at the bottom of her wedding ring, which I always recommend. Most people experience weight fluctuations or joint swelling at some point in their lifetime, so it's always a good idea to have a little room to adjust. 
---
• botanical • custom jewelry • one-of-a-kind • wedding rings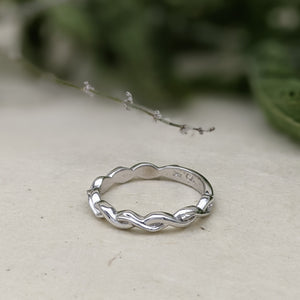 I created this custom wedding band to match Katelyn's custom marquise engagement ring. Both rings have an organic, vine-like woven shank with little knob and knot details to suggest a tree branch. I think nature is endlessly inspiring for my jewelry. You can take a peek at more custom projects inspired by nature here and here.
---
• earrings • men's jewelry • one-of-a-kind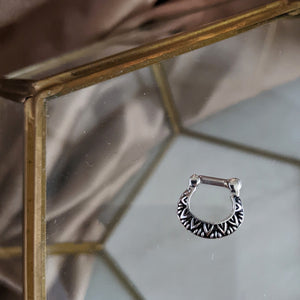 A few years ago, I made custom plugs for my friend Alastair. This year I made him a matching custom septum ring in sterling silver. It includes some elements from his earrings, but on a smaller scale. Now he has a complete, one-of-a-kind jewelry look for everyday wear. Love it!
---
• books • education & resources • small business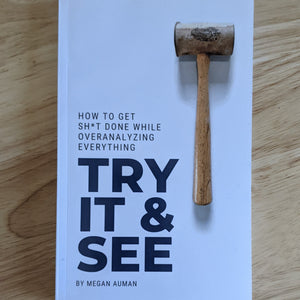 I just finished Try It & See by Megan Auman, and I thought it was a refreshing small business read. Rather than being a systems book (like GTD, which I also love), the book is much more about mindset. She talks about shipping things out into the world (even/especially when you aren't ready), pricing, experimenting, and remembering to have fun in the business you built for yourself. That last one really resonated with me. It was a quick, eye-opening read from an author with real experience running a small jewelry business. I think this book will be just as useful...