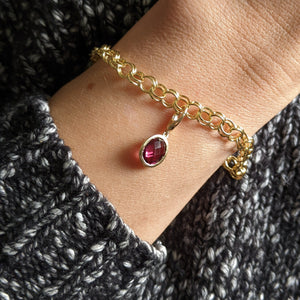 Anabell want to start a charm bracelet to celebrate the big moments in her life. We picked out a chunky yellow gold chain and added an oval garnet birthstone charm to start her off. More to come!
---
• children • custom jewelry • inspiration • push present • special details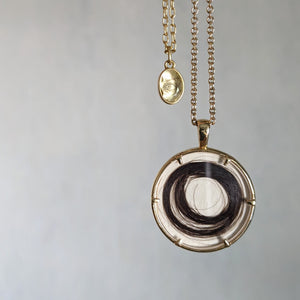 My very favorite necklace: a piece that celebrates my son, Michael. One of his sweetest and oft repeated phrases as a toddler was "See the moon?". I designed a crescent moon pendant with three 8-pointed stars, one to represent each member of our family. This piece is reversible, too! The back of this pendant features a lock of Michael's baby curls. After his first haircut, I had tucked a few locks of hair away in an envelope and wanted to place them somewhere I'd see them more often. This ended up being the perfect keepsake to display his baby curls. I...
---
• holidays • inspiration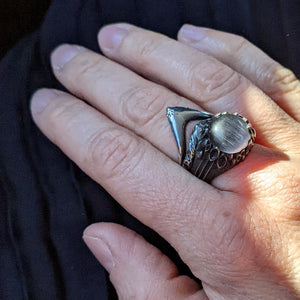 I dressed up as a witch for Halloween last fall and my favorite part of my costume was, of course, the jewelry. I blackened one of my Monolith Rings and a Lily Dome Ring to stack together for witchy vibes. Dark, moody, jewelry paired with a turtleneck and black pleated skirt (plus a witch's hat!) was all I need for a fun, easy costume. It turned out so good that I might just repeat it again this year.
---
• birthstone • custom jewelry • necklaces • one-of-a-kind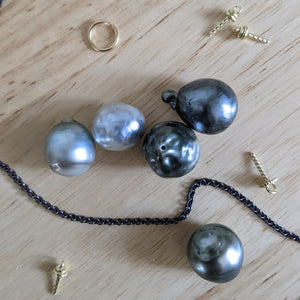 I've been working on making some new one-of-a-kind pieces! I'm making Tahitian baroque pearl pendants in 18kt yellow gold, with sterling silver and blackened silver chains. I think these will be perfect for layering with paperclip chains, which I've been obsessed with for several years. 
---
• custom jewelry • engagement rings • heirloom jewelry • wedding rings
I made this antique-inspired halo engagement ring for my sister-in-law, and she chose a simple rose gold wedding band to stack with it.  I love mixed metals! You don't have to worry about matching your jewelry when you intentionally mix metals. Wear what you love, what makes you feel good.